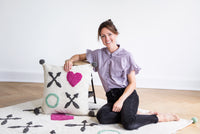 HUGS & KISSES - XOXO
We all long to be able to hug our parents and closest friends again. My XOXO collection stands for HUGS AND KISSES and so maybe we can give our loved ones a cozy kiss. If you feel like it too, please take a look at my XOXO collection.
Please have a look to see if you like something. We ship on the following day (workdays).

XOXO Elena
TO THE XOXO Collection>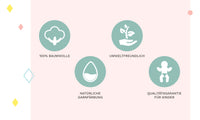 ENVIRONMENTALLY FRIENDLY
Made from 100% cotton, our carpets meet European quality standards for children and toddlers. minividuals strictly adheres to sustainable, environmentally friendly and people-friendly production in its production and distribution. These include the selection of the highest quality yarns, the exclusive use of natural dyes, the complete abandonment of chemical or harmful additives and controls to prevent child labor during the production process.
chemical or harmful additives and controls to avoid child labor during production.
TO OUR COLLECTION>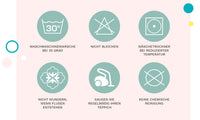 PRACTICABLE WASHABLE
How do cool kids live? Wild! Why not! Just as wetness is a question of clothing, dirt is a question of cleaning.
Made from 100% washable cotton, our carpets are particularly easy care. You can simply wash the rugs at 30 degrees directly in your washing machine and dry them in the dryer.
They have been put through their paces by independent testers and are not only lightfast but also washable in terms of their color and appearance. A latex coating on their back gives them the necessary traction so that the next bobby car race can take place.
TO OUR RANGE>
CURRENT COLLECTION: LINE ART
FOLLOW US
Follow us on Instagram! So you can see in which stores and hotels we are represented, which collections are new or which campaigns and cooperations we are currently planning. The INFLUENCER cushion with matching carpet is of course also available in the range!
GO TO INSTAGRAM>